St Mary the Virgin, Rye, East Sussex - 28th July 2005
VIEWS FROM THE TOWER
Click here to return to the main St Mary's page.
The first is to the south east over the chancel and south chapel.
This is of a lovely ancient house to the south of the church.
And one of the harbour, to the south west.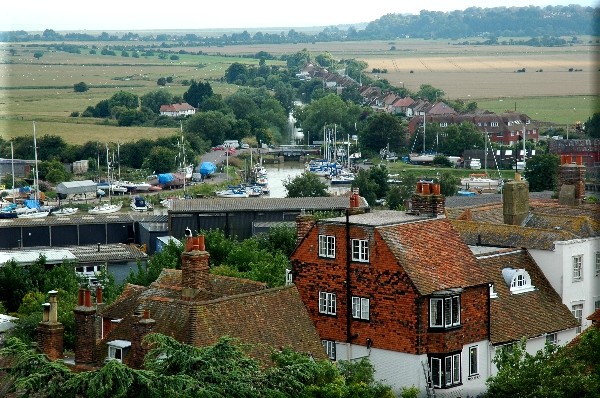 Looking west, Rye Windmill in Mill Lane is the main feature.
This is the view looking north west, the railway station is the large building just below the field on the right hand side.
And here is a closer look at the railway station.
This one is looking out over Rye to the North, down Lion Street.
Click here to return to the main St Mary's page.
Digital photographs
---
Visitors to this album since June 2003

---
This is a page from the Roughwood British Churches Album
If you would like to purchase any of the images featured here or commission others of this church, please click here.
If you found this page using a search engine or other link, please use the icons below to link to one of the main sections of the Roughwood web site:
Please do not reproduce or store any of the pictures on this site without asking first.
---